Do you know SUMO Restaurant? 

Information
Sumo is Japanese national sport and one of Japanese traditional cultures. It is believed that the origin was in the mythical age. Sumo has been familiar with Japanese culture and lives of people. Sumo has many faces such as historical, cultural, Shinto ritual or athletic, and each of them has particular feature. We will tell international customers about correct sumo knowledge. You also have an opportunity to try CHANKO-NABE as well. (CHANKO-NABE: unique meal in the Sumo world) We hope you have great time and enjoy Sumo world.
–
You can experience at our hall only!
Let's eat CHANKO-NABE(hot pot cooking) with SUMO PERFORMANCE.
Start: 2015 Dec.
-We open on every Monday-
(Close: 28/12/15-4/1/16)
Sumo demonstration Start: 12:00
Chanko Lunch Start:12:50
Lunch End:14:00
 (You can leave the room after finishing your lunch until 14:00.)
–
MAP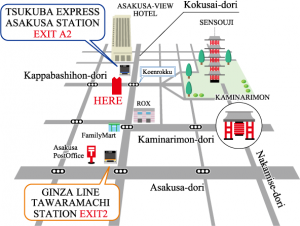 Address: 2-27-10 Nishi – Asakusa Taito-ku Tokyo

Access:
★4min. walking from Ginza Line "Tawaramachi Station" EXIT 2
★1min. walking from Tsukuba Express "Asakusa Station" EXIT A2
★6min. walking from SENSO-JI (500m)
Contact Details Phone: 03-5669-0435(In Japanese)
Price
Adult 10,800yen (including tax)
Child 5,400yen (including tax)

Under 3 y/o: Free (no meal and seat)
4-11 y/o: Child (including meal and seat)
Over 12 y/o: Adult (including meal and seat)

1.Let's Enjoy the SUMO PERFORMANCE
We will perform history, manner, training, real match and so on with explanations. We will proceed and explain in English.
1. Explanation about fundamental actions by two of us (they used to be sumo wrestlers)
2. Introducing some techniques including prohibited techniques
3. Real 3 matches
4. Try playing SUMO with two of us (they used to be sumo wrestlers)
  *Customers need to wear costumes which we prepare.
5. Souvenir Photo with them!

*We may change the demonstration due to a condition.

-   
2.CHANKO LUNCH
CHANKO-NABE(hot pot cooking) is healthy and nutritionally balanced diet. Why sumo wrestlers can grow so much even if they eat such a healthy meal? It is because they eat it with a huge amount of rice and they train hard every day.
–
~MENU~
・CHANKO-NABE(hot pot cooking)★CHANKO-NABE cooked by staff used be sumo wrestlers.
・Pork cutlet lunch box
     Pork cutlet,Rice,salad,potato salad
・Citrus sorbet (sherbet)
・Oolong tea, water or hot water (for free)
  You can order other drinks except hot drinks. (In cash only)
  The menu may change because of season.
Also, some of those are "one plate for a table".
–
YouTube
– 

– 
Note
*The room is floored with tatami mats. (If you need chairs, let us know when you book.)
*We are going to arrange the best seat for you by the order of booking so you cannot assign your seat by yourself. Due to the number of group members, we might request you to separate your group into 2 or 3 to use another table.
*Our staff will make CHANKO-NABE so you will not have to cook it.
*Please make sure that we cannot be responsible for any trouble between customers, accident, robbery or injury. You are responsible for your own personal property.
*You must follow our staff. You must act with good judgement and consideration, both for yourself and others. If you made any trouble, you would be required to leave the hall. (No refunds)
*Bringing your own food or drink is acceptable.
* You cannot enter when all tables are booked.